Q Do you play jingles?
A No, no jingles. When this station was owned by Gulf, one of the things it was founded on was a very clean sound. For years K-Lite was "Lite Rock, Less Talk" and all the things that went with that-fewer interruptions and disturbances, no hype, gimmicks, and part of that meant the production on the radio station had to be very low key and thus, no jingles. We've considered jingles recently but we really want to be sure it's the right thing to do before we actually go with anything like that.
Q Going into a new market like Houston, how did you evaluate the station and the market and the positioning of one within the other?
A I did a lot of long, hard talking and listening in particular to everybody in the station-not just the air staff but everybody, top to bottom, getting a feel for the history of the station and what was wrong and what was right.
Q And what was wrong?
A Primarily there was a lack of cohesiveness, a lack of teamwork among some of the staff. Also there was some question as to the direction of the station as to where it was going. There'd been some philosophical changes in the direction of the station and there seemed to be some confusion there.
Q What was right with the station?
A The station has great personnel, excellent market position, and good numbers that had taken a hit recently but that we're hoping to build back up in a book or two. It's a fine radio station that only needed a little bit of fine tuning.
Q How about your morning show?
A My Assistant PD, Steve Matt along with
our News Director, Betsy Ballard, do the morning show. The show has the feel of
K-Lite but with a lot more presence and information in it. Our news is in the morning show and again we have news in afternoon drive . . . 60 second news updates. We also
get traffic information via computer screen
and we pass that along as something
comes up.
Q What's the secret of a good music balance in a Lite Rock station?
A That's one of the things we're still feeling
out. We're learning that in Houston and, I suppose, in every market, the audience is fractionalizing in terms of A/C. Transtar
Format 41 is in Houston now on KJYY, and
we have an oldies station in town, so for this A/C to succeed, we felt it would be best to remember that we are Lite Rock not Lite
A/C and we backed off the Kenny Rogers
and Barbra Streisands and Barry Manilows
and have become a little more hip in our
A/C music.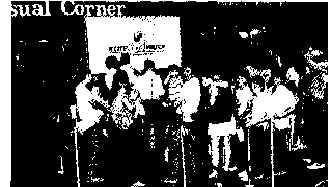 K-Lite ChildWatch campaign draws listeners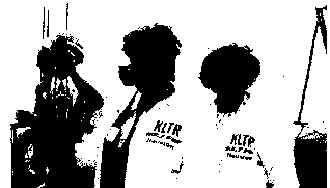 K-Lite winners of a trip aboard the Elissa
Q Would you call your air staff personalities?
A If you'd asked me that when I got here, I'd have said no. We've had a lot of meetings since then and it's our opinion that for any of these Lite-Rock stations to succeed we have to give this station a bit more warmth and believability and hence more personality so we can develop some listener loyalty. That means moving away from the jukebox approach and bringing the air personalities more into the forefront with relevant things to say to our target audience. We're working on that right now.
Q Do you sweep your music?
A We do play 30 minute music sweeps every hour, but we do bring in the jock in between those songs-it's not like 30 minutes of no talking.
Q What is it that makes your radio station what it is?
A I don't think it's any one ingredient. I think we've achieved a very comfortable balance that has given us a very good image with the community. We have a reputation as a radio station that's reliable and dependable, plays pleasant music and doesn't get in the way of your day.

Q CBS has never been known for
being overly generous with promotional money or much else either to their radio stations. You have a lot of competition,
you weren't the market leader when you arrived, so how are you attracting listeners?

A We have six or seven painted billboards
up year round. We run television campaigns twice a year here, and we also go way out
of our way to get involved with community
events that fit the image of the station.
Q What kind of things fit your image?
A We're involved with the Saturday
morning concert series of The Houston Symphony Orchestra for children, we're
the official track and field sponsor of the
US Olympic Festival this past Summer in Houston, next month in December we're
tying in with the YMCA for their Jingle Bell
Run which involves 10,000 to 15,000
people, we raise money for one of the
premiere children's hospitals in the nation located here in Houston . . . this kind of
thing. Our ongoing Child Watch campaign fingerprints and provides a photo ID of their child and the kids get child Watch coloring books with all kinds of safety tips to warn the kids about going with strangers and so forth.

Q Do you run a lot of on-air contests?
A No. No on-air contests in the sense of
ninth caller in wins or send us a postcard. We're a little timid in that area, because,
again, the station has never done these
things and we're very concerned about
violating any of the traditions of the past
which have been beneficial to us.