While often overlooked, production can be a key element in a station's overall success. Programmers from large, medium, and small markets emphasize the importance of this programming component, but are frequently frustrated in the search for AC-compatible production elements.

The Wrong Beer Now
As part of his plan to protect KLTR's environment, Scarborough evaluates all spots, and has turned some away. "We've told many advertisers their commercial isn't acceptable to our product. Coors Light, for example, has some pretty hard-edged jingles.
Of the three spots they sent us, we sent two back. Agencies cut different spots for Country, CHR, and UC. We have to educate them to do the same for AC. As with all things, it will take time. Local advertisers want messages that scream `Buy, buy, buy' or `Save, save, save.' We request that these spots be toned down and recut."
Thus far, no KLTR advertiser asked to alter a spot has told the station to take a hike. "Everyone has accommodated us," Scarborough said. "We tell them we know the audience and how to reach it. Our clients always cooperate with us in some fashion."
KLTR's jazz offering, "K-Lite Cafe," airs evenings and Sundays during brunch hours. The station runs certain spots outside the show that it deems unacceptable within it.
"The Cafe' has a pop feel," Scarborough reasoned. "We're selective with the music. There's nothing abrasive, there are no hard guitar licks, and the tempo is fairly controlled. The Cafe' needs to provide a relaxing environment. The last thing we want to do is burst someone's bubble by blowing the illusion of this relaxing haven. Some spots fit in one environment, but not in the other."

It's Showtime!

"Everything we do on-air, in - cluding commercials, has some element of `show biz' in it," said KLTR/Houston PD Ed Scarborough. "The music we put into commercials and promos has to match the station's environment, which must always be protected. Music we place under commercials sounds like songs we'd play on the station throughout the day."
Finding a production library to fit the bill isn't easy. "We've evaluated about 15 libraries within the past two months," Scarborough reported. "We're having a hell of a time finding one that's suitable for AC. I don't know what some of these people are thinking when they're laying down tracks. Tracks tend to be heavily laden with rhythm, and aren't geared to ACs. Not all ACs play heavy dance product, yet production companies lean to some weird sounds.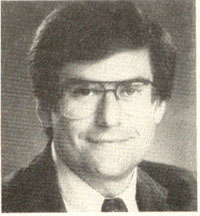 Ed Scarborough
"Companies use lots of fuzz guitars on tracks. I'd venture to guess 70% of ACs wouldn't touch guitar licks like that. Production packages that companies claim are AC are often pretty off-the-wall. One package we received had brass and string sections which [made it sound] like it came from the '60s.
"When looking for music beds, Scarborough hunts for pieces with unobtrusive melodies. "They have to have texture, feel, and some rhythm. But they shouldn't have melody getting in the way. We've heard production beds with wailing saxophones. Do they expect me to put that kind of music under a spot?"